Let the Dance Begin
April 5, 2014 / Saturday @ 8:30am / clear, slight breeze, 47°

---
A large-cupped daffodil named 'Johann Strauss'
Everyone's grumbling about a winter that's played with us until we're exhausted.  Cold days and north winds just keep coming.  Here at the botanical garden though, spring won't be denied.  The early flowering spring bulbs are blooming.  Beds that were bare ground a week ago are now marked with leaves that will turn into thousands of tulips by Easter.  The Garden seems poised to begin the new season, ready or not.
This year the botanical garden is highlighting hyacinths.  The main seasonal display gardens are stuffed with hyacinth bulbs planted just inches apart.  Some of what I think must be 'Pink Pearls' have already begun to bloom.  Imagine the beds in a couple of weeks though – a solid blanket of pink blooms filling the air with their distinctive heady floral scent.
Not to be missed – a story of resurrection.  Alongside the Linnean House is a double row of heart-leaved bergenia (Bergenia cordifolia).  Two weeks ago the plants were prostrate.  I had called them.  I thought that they would have be composed and replaced by now.  Instead, they survived.  The leaves inflated themselves and even more amazingly the plants threw up stocks filled with buds that soon open.  If these bergenias were people, they'd be declared a miracle. The variety planted here is named 'Winterglut' WINTER GLOW.
As a prelude to the big, tightly packed flower stocks of the hyacinths in the display gardens, the smaller toothier, wild hyacinths (Hyacinthus orientalis) are in full bloom in the Ottoman Garden.  Every year when I see these in bloom I make a mental note to order some for my spring garden.  That doesn't seem to work, so this year I'll stick a Post-It note to my Brent & Becky's bulb catalog.
Apart their habit of blooming in the gap between the crocuses and snowdrops and the main season bulbs, I like the way the stocks of wild hyacinths with their loosely spaced flowers catch the wind, almost like wind chimes.  Their flexible stocks are a nice contrast to the ridged corncob stocks of the showier hyacinths.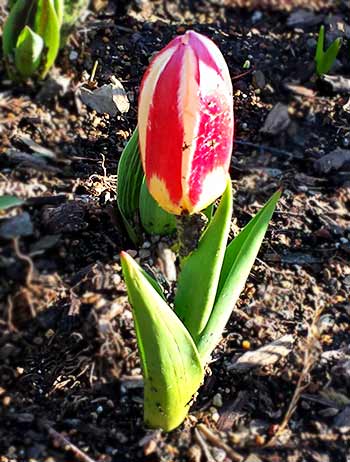 Just up from the ground with dirt still clinging to their petals is this Kafmanniana tulip named 'The First.'  And it is.  The candy-cane stripped flower is so new to the above ground world that it still has a typical tapered tulip shape.  As it gets acclimated, it will splay its pointed petals and begin to look more like a star fish than a tulip.   I've read that when 'The First' is open, the backside of the petals is pure ivory.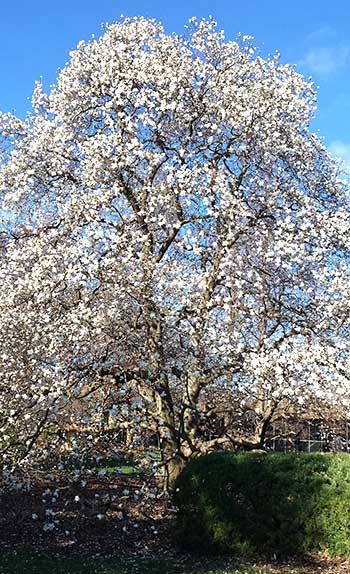 Everywhere magnolias.  Nowhere though is there a more spectacular tree than this one.  It's in full bloom along the walk just south of the maze.  The ground hugging branches of the tree circle the tree for at least twenty feet from the trunk. I can't even estimate how high the gum-drop shaped canopy thick with 3-inch white flowers might be.   The sign near the tree says the tree is cross between a Kobushi magnolia and a Star magnolia.  The cross was first made about a century ago by Max Loebner, a German horticulturist.   Since then, many varieties were developed from the cross. This one is named Magnolia x loebneri 'Merrill.'