high clouds: north wind: 46ºF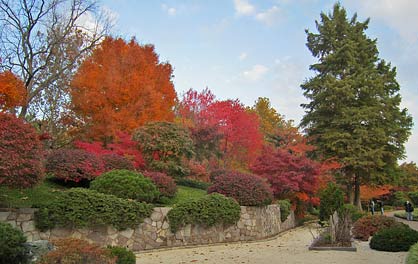 This was the last morning before the clocks return to normal. If I were ever to see the botanical garden at sunrise, today would have to be that day. So I arrived early; as did dozens of others. After three days of rain, we all wanted to see the leaves that had suddenly changed their outfits.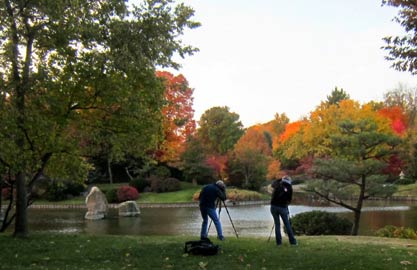 The trees and shrubs in the Japanese Garden are brilliant. Photographers, as numerous as fishermen on opening day of trout season, are catching views from every angle before they disappear.

After the color fades, the botanical garden plans to close the Japanese Garden until cherry blossom time in the spring. Work will be done on the lake itself, on the plumbing that keeps the water falling over the two waterfalls, and on the decking and supports of the bridges. Works has already begun on the zig-zag bridge and drum bridge. This is the drum bridge that connects the garden with the sacred tea island. The railings and walkway are gone. Only the curved supports remain.


Trees and shrubs that I've never noticed before I see today. Color does that. Just off the walkway I saw this Three-Flower Maple (Acer triflorum). The foliage was so brilliant and intense that I detoured to see the tree up close. Intriguing leaf: three separate spreading leaflets that join at the stem.

Every week more preparations are being made for the botanical garden's big winter event: Garden Glow. Hundreds of thousands of LED lights will be strung on trees and buildings. Some will be programmed to produce some crowd-pleasing pastel hues that have never been seen at local outdoor light displays. Added to the lights, there will be music, dancers, a candlelight village, and some decorate it yourself life-sized snowmen and women. Of course, there will be food and drink stations throughout the garden and a few fire pits for roasting the marshmallows needed to make s'mores.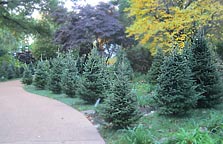 To get ready for Garden Glow, the walkway through the daylily garden has been "planted" with douglas firs. Dozens of them, all beautifully shaped, and scattered so artfully that I felt as though I was walking though a tree farm. Some of the trees are strung with lights, but there's still much to be done.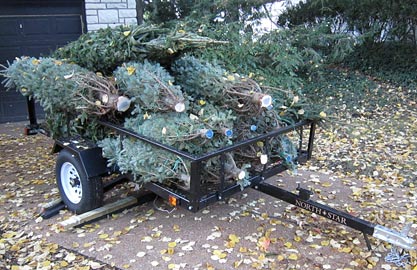 I thought the trees were alive until I saw this hitch hidden behind some shrubbery.


Just as sassafras can't make up its mind about which leaf shape it prefers, neither can it decide what color its three different leaf shapes ought to turn in the fall.



The water in circular fountain was dyed bright red to encourage the St. Louis redbirds to win the World Series. It didn't work. Now to add salt to our wounded hopes, the fountain is sending up a spray of washed-out red.