clouds: chilly wind from the north: 38ºF

The ticket seller at the botanical garden gave us the shocking news. Phil, the weather prognosticator-in-chief, who's currently holed up in Punxsutawney,
has been indicted for lying
when predicted an early spring. Temperatures around here and much of the country have been well below normal since Phil emerged in early February. And as if that's not enough, the weather bureau has just issued a storm warning for a expected eight inches of snow timed to celebrate this first weekend of spring.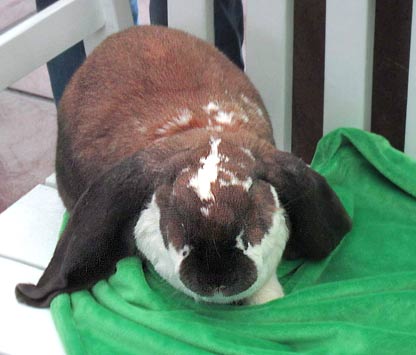 This morning the botanical garden is filled with families here for the annual egg hunt. The sold-out hunts start every half-hour from ten to noon. To keep the bigger kids from swooping in on all the eggs, there are separate hunts for the 2-5 year-olds and the 6-12's. Kids are also asked to stop after collecting ten candy-filled eggs. One dad was overhead asking his son to practice counting from one to ten: "Eight," 'Nine," "One," "Eight," "Nine." was his version. After the hunt, kids could sit on a big Easter Bunny's lap to have their pictures taken or go inside to pet real bunnies and rabbits like this English Lop.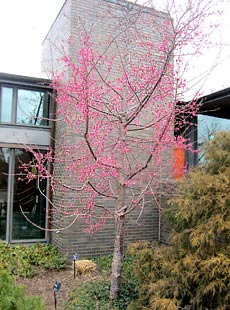 The National Park Service says that the stunning Yoshino cherry trees along Washington's Tidal Basin will bloom this year between April 3 – 6. I looked at the Yoshino trees in this botanical garden's Japanese Garden and from the looks of the buds, I don't think they'll flower until mid-April. There is an ornamental cherry tree in flower this morning though. It's gotten an edge on all the other early blooming trees because it was planted near the South facing brick wall of the Kemper Garden Center. The tree, developed by the flowering cherry breeding program at the National Arboretum in Washington, D.C., is named
'First Lady.'
While the botanical garden's collection of citrus trees are spending the winter in the Linnean glasshouse, a place is being prepared for them when they come outdoors again. Just outside the gate to the herb garden a new walkway has been laid out. On either side of the wall, the ground is being readied for their arrival. After the pots the trees are growing in are buried and mulched, the area will look like an miniature orange grove for the summer.
This is the Goldilocks day for the pussy willows at the far end of the Japanese Garden. The furry catkins are not too hidden, not bloated -- they're just right. The pussies are plump and full. More years than not I miss seeing the furry things at their prime, but in years when I hit is just right, I always give a few of low lying ones a pet.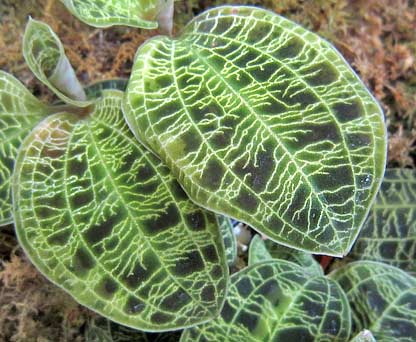 Back inside at the Orchid Show, we saw a plant labeled
Macodes petola
, a member of the orchid family that's not known for nor grown for its flowers. "The beauty . . . resides in the deep green velvety leaves, the light-green longitudinal nerves of which are untied by groups of transverse snow-white irregular streaks" wrote
Joseph Hooker
about a plant like this one that he saw growing in Kew Gardens in 1889. Nerves is a good way to describe the chaos of the patterning on the leaves – like neurons arcing uncontrollably.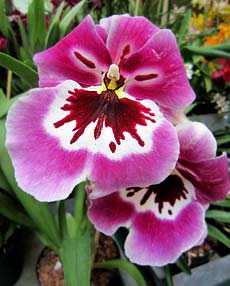 I noticed that among the orchids for sell in the garden shop, the ones nicknamed Pansy Orchids (
Miltoniopsis
) attract a lot of attention. They get looked at, pointed at, picked up and then put back down again when possible buyers see their price tags of nearly $70.
clouds: wind: 54ºF dropping quickly to 44ºF
Last year's spring doesn't matter. Good or bad, fast or slow to arrive – We forget all of it. This spring is all that matters. And this spring – whatever it brings – never quite measures up to the images, the smells, and the feelings of that perfect spring we carry around in our heads. So compared to that perfection, it's easy to list all the shortcomings of this year's real spring. Even though it doesn't arrive officially until next week, the spring to come has dropped a few hints.
It's been too cold too long for this spring to be orderly. The tidy succession of witch hazels and snowdrops, succeeded by aconites, hellebores, crocuses, daffodils, and tulips won't hold this year. Spring this year will like this
Jan Brueghel painting
of an imaginary bouquet. Like the painting, I think we'll have blooms from winter, spring, and early summer all blooming at the together, all wanting to be noticed and admired.
Often it's hard to notice when something is missing from this botanical garden. Because we visit on Saturdays, I never see the people who add and subtract things from the landscape during the week and then remove all traces of what they've changed. But some things don't go unnoticed. Inside the Linnean glasshouse, I noticed that the garden's prize specimen of a tall
Wollemi Pine
was gone. I had been watching it die for weeks, taking pictures of it as its fronds gradually browned and were clipped off. This botanical garden has had a hard time keeping Wollemi's alive. They've tried to grow them outdoors, inside the Temperate glasshouse, and now here in the Linnean glasshouse – all without success. If I had to guess, I guess that the Garden will get another Wollemi pine – another tall one. The adage "If the horse throws you, you have to get back on and try again" will prevail, especially in a place like this bristling with plant scientists who don't like mother nature getting the best of them.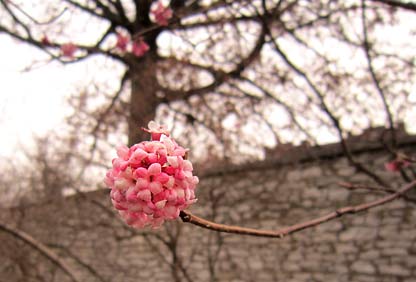 Short-lived, sweet-smelling, the first of this season's pinks. This viburnam named 'Dawn' (
Viburnum x bodnantense
) is flowering along the wall near the daylily garden.
Inside the Climatron, the botanical garden's tropical
glasshouse, a tall Hong Kong Orchid Tree (
Bauhinia x blakeana
) has begun to bloom. I saw this tree for the first time in the Leu Gardens in Orlando. There i
t was labeled a "Street Tree."
Like other "street trees" it tolerates poor soil with high alkaline levels; it's resistant to drought; it grows fast, but not too tall and it doesn't mind auto exhaust. As added bonuses, the Hong Kong Orchid Tree doesn't produce seeds so no one has to clean up after it and it flowers all the way from fall though late spring. Even though the Orchid Tree meets all the prerequisites for being a street tree, it's still hard to reconcile its beauty with it's utilitarian uses. It wrongs my sensibilities to visualize the trees spent, but still graceful blooms flatted by car tires or pierced by high heels and then washed by the rains into the sewage system.
Lots of hellebores are blooming in the garden this morning. They're easy to spot because the keepers of the garden have trimmed away all of their winter-damaged foliage. I was trying to find some of the newer hybrids – the ones with double flowers or ones with blooms that face up, not down. I didn't find any doubles, but did see a this large clump of an outward-facing variety named
'Ivory Prince.'
It's growing near the walkway to the overlook pavilion of the Boxwood Garden where it's sure to get noticed by visitors. It scores high on the attention grabbing scale – flat, big flowers; blooms that no one has to bend down to see; clumps filled with so many, tightly packed flowers that they look like a floral bouquet; blooms that subtly mix cream, lime, and faded burgundy hues; and a blooming period that supposed to last and last. 'Ivory Prince' has just a few blooms this morning, so I'll be back again next week.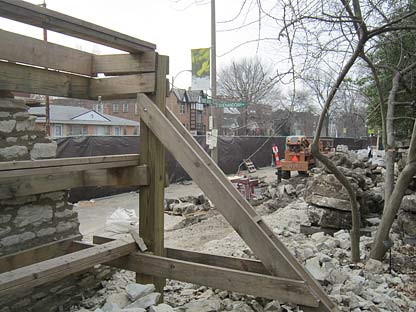 Work on the
reconstruction of the limestone wall
on the East side of the botanical garden has begun. Eight tall pin oaks trees whose roots "have caused damage and heaving to the wall as well as the sidewalk, creating a safety risk to pedestrians" were cut down last week. Every stone removed from the wall will be labeled and put back where it was so that six months form now when the reconstructed wall is finished, it will look like the original one did in 1856.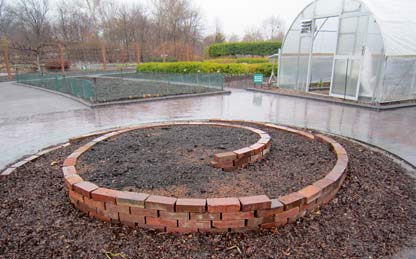 Where have I been? Until I saw this one in the Kemper Home Garden, I had never seen nor heard of an "herb spiral." Lots of others have. The are hundreds of pictures of home-made herb spirals on Google images along with ready-made ones that Walmart sells. The spiral shape allows lots of herbs to be grown in a small space. Also as structure spirals inward, it also rises so that growing conditions gradually get warmer and drier. That means that somewhere along the spiral there's a temperature and moisture level to make any herb happy. I read that the
herb spiral purists
believe that spirals should go clockwise in our hemisphere and counter-clockwise south of the equator. The makers of the spiral in this botanical gardens are purists.