New Sightings: Purple Tomatoes and a Ruby Shrub
July 12, 2014 / Saturday @ 7:30am / dark clouds. rain cooled breeze, 80°

---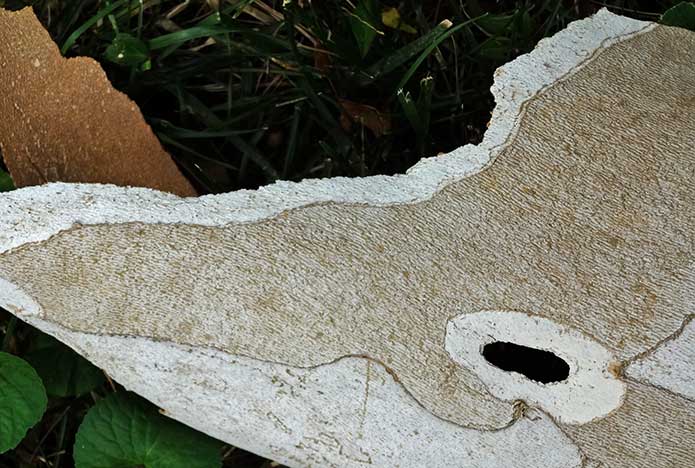 Shard of sycamore bark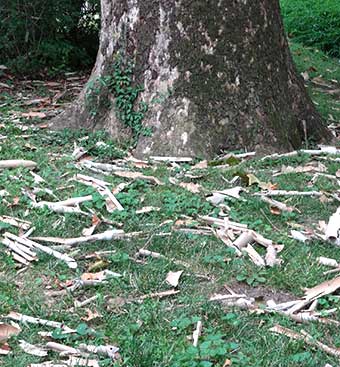 Sycamore trees get lumped with sweetgums, silver maples, and buckeyes as dirty trees. They all have droppings that need tending.  This time of year, it's the sycamores.  All over this botanical garden, the sycamore trees are shedding sheets of their brittle outer bark leaving behind the white blotches that look so striking against a blue winter sky. I think the number and size of the sheets are larger than they have been in years past.  Maybe the record cold of last winter loosened more of the bark than usual.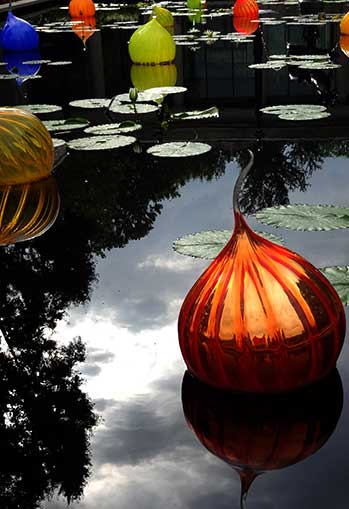 It's was a perfect day for looking.  With a gray overcast sky, this reflecting pond filled with tropical waterlilies and Dale Chihuly's glass walla walla onion balls – both in an assortment of summer colors – was a good place to pause a bit.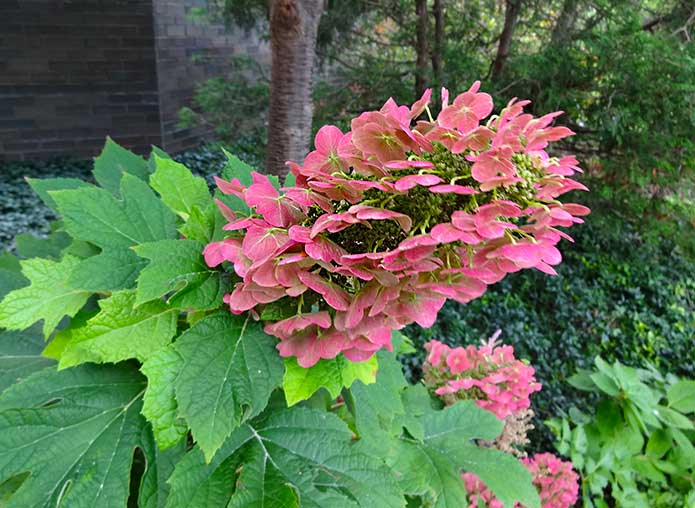 I saw this Oakleaf Hydrangea just outside the Kemper Garden Center.  It's a variety called 'Ruby Slippers.'  It looks like a hydrangea that's been to obedience school.  It has a well-mannered symmetrical shape and petite-sized leaves to match.  Yet the length and fullness of its panicles of burnished red flowers are anything but petite.  'Ruby Slippers' has plenty of impressive nine-inch panicles that jut out from its foliage.  The hydrangea was developed by the National Arboretum's shrub breeding program. When mature, the Arboretum says it will be just three feet tall and spread only five feet.  'Red Slippers' was under development for more than a decade, but it's only been available for a few years.  Already some garden magazines have dubbed it as the must have shrub for planting in places where the large, free-form oakleaves won't fit.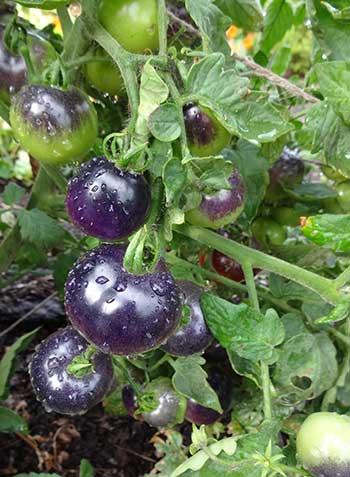 When I saw this ripening tomato named 'Indigo Rose,' I thought that it was some kind of heritage or heirloom tomato.  It's not.  It's a brand new variety.  'Indigo Rose' was bred at Oregon State University. There they have a program to develop new tomatoes that have high levels of anthocyanin, a naturally occurring antioxidant found in purple fruits and vegetables like blueberries and eggplant skins.  'Indigo Rose' gets its anthocyanin from its skin – the darkest of all purple skinned tomatoes.  It was developed by crossing two wild specie tomatoes, so it has no genetically modified genes and will breed true to form from its own seeds.  What do the two-inch globes look like inside and how do they taste?  Since botanical gardens are for looking, not picking, I'll never know.  Those who have seen them report that they're red inside.  As to taste, opinions vary from "unique and fabulous" to "the taste is how I think grass clippings probably taste."


Izzy's Gone
July 5, 2014 / Saturday @ 7:30am / party cloudy, light breeze, 69°

---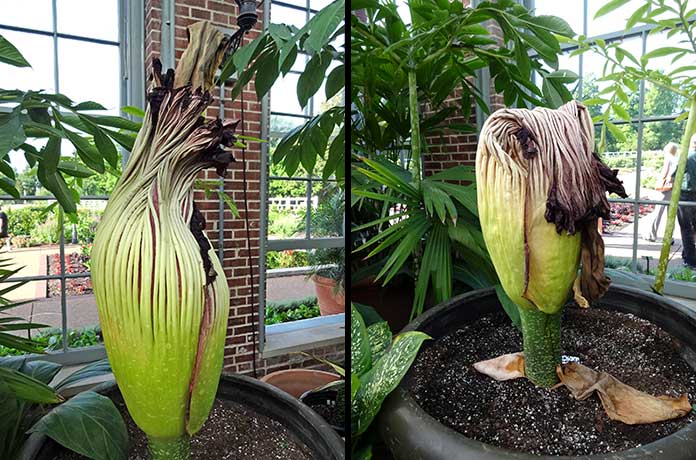 Collapse of the Amorphophallus Titanum (July 5, left; July 9, right)

This morning the Titanum Amorphophallus named 'Izzy' is closed tightly.  Its top is withering fast after blooming on Monday night.  The botanical garden stayed open on Monday until 2 a.m. to accommodate the crowds.  One of the keepers of the Titan said the lines to see it blooming stretched from the garden entrance out to the parking lot.  At the height of the frenzy and the odor, visitors had a wait of an hour to hour and a half, she said.


As a memento of the event, the botanical garden had t-shirts for sale with a picture of the blooming Titan and the phrase 'Bloom in Peace.' Izzy had a tuber that weighed in at 40 pounds and at when it was in full bloom, its spike of flowers was 62 inches tall.

The price of quality hostas being sold in the gift shop of botanical garden continues to drop.  Last week they were 25% off.  This week it's 40%.  There are still many, many named varieties left though and some of them are being to show some shop stress.

At 40% off I decided to buy a couple.  I bought a variety named 'Cooltini' marked down from $13.99.  I wanted a blue, small to medium sized-leaved variety that didn't grow too tall or spread too much to plant near my front entrance.  'Cooltini' fits.   There's a bonus too. The leaf stocks are dotted with maroon-colored splotches.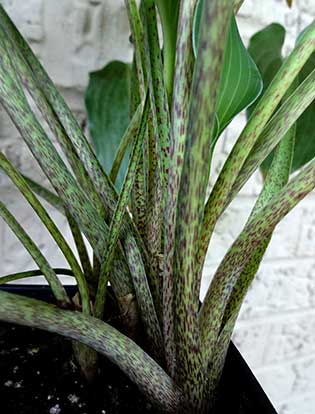 After I bought the plants, I looked for more about them on the web.  'Cooltini' was developed by Mark Zilis, author of mammoth definitive guide to everything hosta – The Hostapedia: An Encyclopedia of Hostas.  'Cooltini' is one of a series of 13 hostas with names that end in –tini. There's 'Martini' and of course, but also 'Sakitini' and 'Cupatini.'  They've all been developed and are being sold by Q&Z, a wholesale hosta nursery.
The social media of hosta fans are not enamored by any of the –tinis. Too many varieties they say: "They actually annoy me. I really don't think they have anything unique to offer and there are soooo many of them."  Others wonder if they're all just a bunch of random seedlings without any real merits and the whole bunch of –tinis are just "mediocre plants introduced to create a catchy themed line of plants to sell, not because the plants are great."   Meanwhile my 'Cooltinias' have been planted near my front door. They're growing nicely, unmindful of their web-knockers.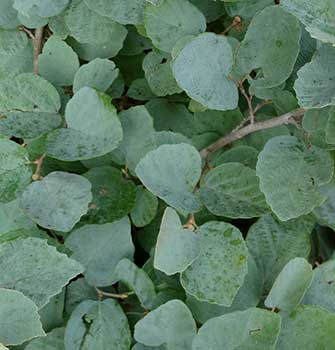 New to me – this blue-leafed variant of Fothergilla named 'Blue shadow.'  At this time of year all the other Fothergillas have pretty ordinary-looking green leaves.   I've always thought of Fothergillas as being two-season shrubs.  In spring they're covered with tufts of sweet-smelling white flowers that bloom before the most of their leaves come on.  Then in the fall all of their ordinary looking green leaves switch to intense shades of yellows, reds, and oranges.  With 'Blue Shadow' now in the mix, there's another season of interest.


Often the choice of plants in this botanical garden startles me.  The keepers of this garden have a talent for using fairly ordinary plants in ways I never would have imaged.  Take a close look at the plants being used for the edging of the beds outside the Linnean glasshouse.  Because there are so many plants planted so close together I thought they were they were some kind of variegated liriope – a pretty common, inexpensive way to edge a bed or a walkway.  Get closer. These are not liriope.  The beds are lined with variegated yuccas (Yucca filamentosa) named 'Color Guard.'  Nowhere have I ever seen these dramatic, commanding plants used as a simple edging plant.  Yuccas are usually plants that stand alone.  They seemed to have evolved to draw attention themselves with their circular shapes, their sharp pointed leaves, and with their tall stocks lined with cream-colored flowers.  The 'Color Guards' planted here are still small.  Who knows what will happen as they spread out and start to erupt with six-foot tall spikes?  Should be interesting to see what these prima donnas that have been forced to be members of the chorus do.