light wind: patches of blue: 37ºF



Best not to dwell on the winter storm alert that promises freezing rain and sleet topped off with snow. That's to come. Today though the ground is bare so late winter flowers are easy to find. Snowdrops have begun to pop-up throughout the garden, but the biggest, most concentrated cluster of them is just inside the Bird Garden. Hundreds of them are blooming in tightly packed colonies. Each year the separate colonies get wider across and come closer to joining up to make a carpet of blooms


Since the snowdrops are blooming, I would have thought that buttercup-colored aconites and the hellebores would have followed suit. I saw neither. Many of the hellebore have had their spent foliage trimmed through and there is some vague signs of developing buds. What surprised me was this cluster of dwarf iris in full flower. See them in the rock garden just outside the temperate glasshouse. They're easy to miss because they're only four or five inches tall and their petals are deep purple verging on black in places. I think their early bloom must have surprised the keepers of the garden because even though the little flowers are blooming, they have no ID sign to name them.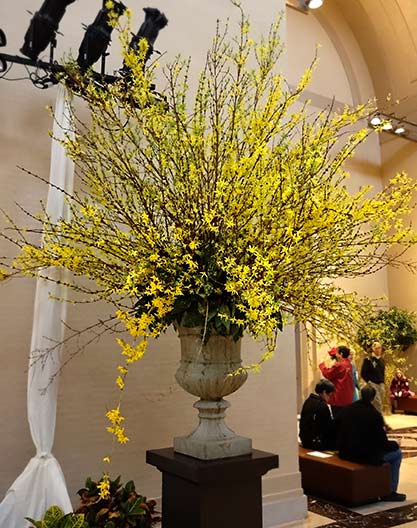 It's still much too early for forsythias, but not too early to begin cut a sprig or two, put them in a vase with a bit of water, and wait for them to bloom. This morning after we left the botanical garden we visited the Art Museum. Scattered in the entry hall were eight urns on pedestals each filled with a larger than life spray of forsythias. Who knew such a common, sometimes maligned little shrub could dress up so beautifully?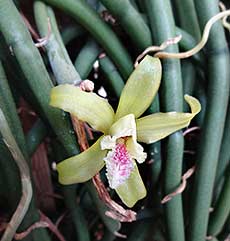 This was our lucky day. We've visited the orchid show several times since it opened at the end of January. Each time we visit, we head to the back of the display hall to look at the vanilla orchid (Vanilla aphylla) hoping to see a flower. The yellow-green flowers of the vanilla orchid last only a day. They open in the morning and close in the late afternoon. Since we see this vanilla vine so infrequently, I thought our chances of ever seeing a flower were slim. Today finally we got to see one – just one. The orchid on display here is not the workhorse of vanilla bean/flavoring industry the Vanilla planifolia. This one is another of the 100 or so other species of Vanilla out there. I read in Vanilla Orchids, a new book by Ken Cameron, that this one -- the Vanilla aphylla -- grows wild in places like Vietnam. Cameron says it's become a favorite of orchid growers because it takes well to cultivation in greenhouses and also has a reputation of flowering more frequently and more freely than other species of vanilla orchids. It's also unusual because it has no leaves. Instead the flowers appear from a tangle of thick green climbing tendrils that the orchid seems to use for photosynthesis.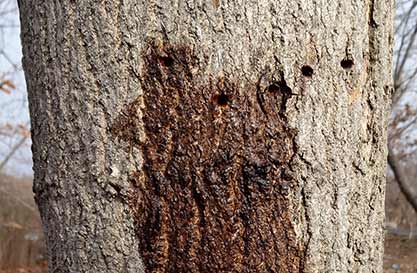 We saw this horizontal band of circular holes on a sugar maple tree in the Native Plants Garden. It's the signature mark of the yellow-bellied sapsucker. I've read that the birds test many trees before settling on ones like the sugar maple that have the highest quality sap. Then they feed on those repeatedly. The sap that the birds don't get oozes out and runs down the bark. The bleeding sap dries there attracting insects and squirrels who feed on the sap while causing further damage to the tree. So far the damage on this tree is confined to a few holes. I'll check back next week to see what happens.


Go to the Climatron, this botanical garden's greenhouse that houses its tropical collection, to see the Jade Vine (Strongylodon macrobotrya) in full bloom. Once a year about this time the vines sent out these chandeliers of clusters of waxy pea-like flowers. They have color so vibrant that you'd swear they was photoshopped. This year one of the chandelier of flowers is hanging down at eye-level – a rare chance to get a close look.



calm: clear: 40ºF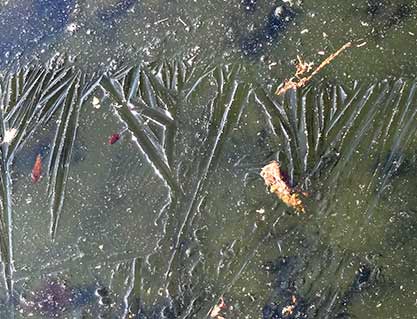 This morning I saw this ice tracing in a pond at the botanical garden – maybe a forest in winter? Yes it's unusual, but I've reached my limit of being able to take joy in things like ice tracings, silhouettes of leafless trees, and the grays and beiges of dried seed pods. Time to move on. I know there's color hidden just under the mulch and the mat of last year's leaves. I'm wearing a papaya-colored pullover this morning. But it too is hidden under my down-filled black coat. It's time - time for nature and me to slough off winter.

The warmer temperatures last week were enough to coax the witch hazels into bloom. We got here at just the right time to see them put on a light show. On clear mornings when the sun is still low, their curly petals light up from the backlight. The yellows, red, oranges, and bronzes of the trees play off one another like bits of stained glass. I won't post any of the pictures I took of the light play because the camera drained away the spectacle. Get here early on a warm day. See it for yourself.



Inside the Temperate glasshouse, a lone almond tree (Prunus dulcis) is in full bloom. Clear, white, delicate blooms cover the leafless tree. Even though it's blooming under glass it reminds me of the cherry blooms that will soon be flowering outside. Wonder what it must be like in central California about now where acres of almond trees are coming into flower? Image being in a small plane looking down at a grove of them forming ribbons of white on the ground.


This winter here with its weeks of below average temperatures and chilling winds has not treated the outdoor camellias well. The botanical garden is officially in zone 6b (0° to -5°), but in recent years has veered toward 7a (0° to 5°F). For the most part, the milder winters have allowed the cold-hardy camellias to thrive. This winter looks like the end for many of them, even those in locations protected from the wind. Late fall blossoms look petrified. Buds are gone. The should-be-glossy leaves are brown and shriveling. This is a Camellia japonica named 'Spring's Promise.' Camellia Forest Nursery gives it a Zone 6b hardiness rating. This botanical garden is more cautious: "With protection and mild winter weather (temperatures do not dip below zero degrees F), it is likely to survive winters outdoors in Saint Louis. Regardless of winter hardiness, it is still a somewhat temperamental plant that dislikes sharp changes in temperature." If there are buds that somehow managed to survive, 'Spring's Promise' will bloom rose-red in April.

I've looked at all of the camellias in the garden. The only one I'd bet on surviving the winter is the Camellia japonica 'Korean Fire.' The two shrubs I looked at still have their deep green glossy green leaves. Some of their buds are brown and desiccated, but some others protected under broad leaves will likely bloom a blood red this spring. I have a small 'Korean Fire' planted under an oak tree in my home garden. Its leaves are still glossy green and I think it has a bud forming.



This is a Cape Aloe (Aloe ferox). It's now in full bloom in the temperate glasshouse. I took its picture just because it looked so spectacular – the orange-red flower tubes positioned like shingles row upon row up the long spike. When I looked at the Cape Aloe on the web though, there's little talk about the flowers or the plant. It's all about the use of Cape Aloe also called Bitter Aloe as a laxative. The Kew Gardens website says that the mature aloe leaves are collected in the wild and slit open. They then bleed a pungent, brown fluid that gets turned into bitter tasting laxative. Brainwellnesspro, one of many vendors who sell the stuff, market it as "is easily the best gut healer and cleanser you will find anywhere in the world. Regular use will lead to desirable health and beauty. This product is quite bitter and not for the faint of heart."



calm: clear: 73ºF



We return again to Leu Gardens near Winter Park, Florida. It's been four years since we were here last. The day is just as perfect as before. The gardens are even better though – more open, better maintained, and renewed with new plantings that look to the future. Coming from the Midwest, I'm easy though. Warm days and an unfamiliar semi-tropical landscape with a bloom here and there is all it takes. I felt much like the woman I saw wearing a sweatshirt that read Nova Scotia. She looked up at me as she was taking a picture of a gecko sunning itself on a wooden walkway and said, "We don't have these kinds of things where I come from." We don't either.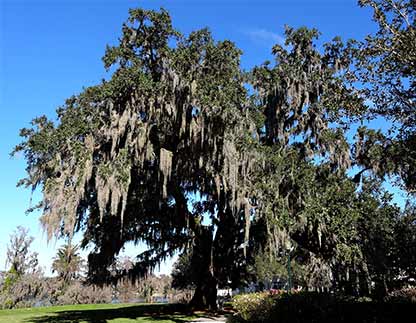 The Southern Live Oak (Quercus virginiana), the quintessential tree of the South, stands at the entrance to Garden. It's a mature tree probably 40 to 60 feet tall. As expected, it's draped with Spanish moss. Its canopy spreads like an umbrella over the lawns and walkway. I paused here for a long time. I looked up and around and to the sides. Then I framed the massive tree in my tiny camera screen to help me remember.



On a side path in the Garden, there's another not-to-be-missed spot called the Wychoff Overlook. A boardwalk's there and a gazebo overlooking a lake studded with water lilies and Cyprus knees. It's a good spot for visitors to peer into the water looking for alligators. There are signs posted warning that Florida law prohibits feeding wild alligators, so that must mean there are alligators in the lake that are not to be fed. On my last visit to Leu Gardens, I did see an alligator. This time, only turtles.


On the walkway to the overlook I saw a dead twig of sharp needles that reminded me of the sharp needles on the Wollemi Pine, the fossil tree that was recently discovered in Australia. The twig dropped from a nearby tree called the Klinki Pine (Araucaria hunsteinii). This very tall tree's ID sign says it's a rare tropical conifer rarely seen in cultivation and that it's a member of a family of ancient conifers that was around millions of years before the dinosaurs. Happens that the Wollemi is also a member of that same family.


Nearby the Klinki, there's this – a Floss Silk Tree. (Ceiba speciosa) No leaves just now nor fruit nor flowers. The lack of distractions make its thorn covered trunk all the more impressive.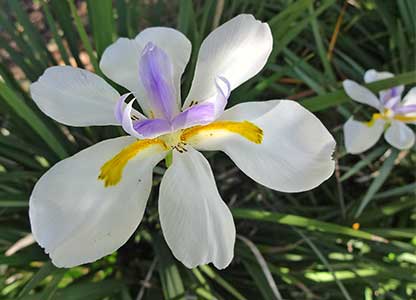 Irises are stunning, but are over and done with quickly. In the Midwestern botanical garden where I usually walk, the irises stage their brief annual spectacle in late spring just after the tulips fade. This iris is an exception to brief. Stunning it is, but it graciously blooms all year long. It's called an African Iris (Dietes iridiodes) where it's a native in Eastern and Southern Africa. Leu Gardens has a long border of African Irises that are being used to soften the base of a chain link fence that surrounds the garden. Today I saw just a few flowers, but according to the sign, that's normal. Winter blooming typically is skimpy. Better times come in the spring and summer. Temperatures below 15 or 20 degrees are enough to kill these tender irises so the only place to see them in the Midwest is in a heated greenhouse. Before today, I last saw them blooming in mid-December, but they were safely inside the Temperate House of the botanical garden where I'm a Saturday regular.

Camellias are in full bloom this month in central Florida and this Garden has one of the largest collections in the country. The collection began in 1936 when Henry Leu and his wife Mary Jane bought the land and house. During their world travels, they developed a passion for camellias so soon as they settled in, they started bringing boxcar loads of the biggest and best plants they could find and planting under the mature pines and oaks on their estate. Over the years the collection has had its ups and downs and records and labels of what was planted where were lost. The job of identifying and labelling the vast collection is still ongoing, but as I wandered around the shrubs this morning, I saw that labelling is still pretty hit and miss and often when it is there, it's hard to find. Still with or without signs, the camellias continue to bloom just as beautifully.

I took dozens of pictures as I walked among the camellias. Later when I took time to look at what I had, I found I netted two real beauties: Camellia japonica 'Donckelarii' and Camellia japonica 'Pink Perfection'. As though the keepers of the Leu Gardens wanted to be sure that casual visitors like me didn't miss these two, they planted many of both cultivars throughout the garden.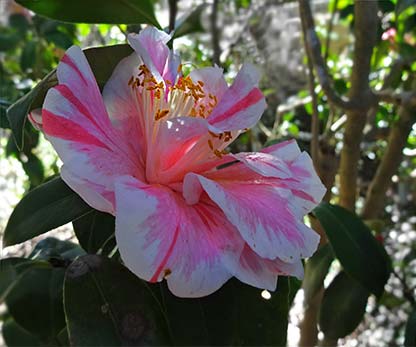 A sign identifying the 'Donckelarii' says it's a large semi-double camellia that was introduced in America 1834. Sounded interesting so I poked around the internet and browsed the Janet Trehane's book Camellia for more. Turns out that the plant was found in Kurume in Southern Japan and sent to Belgium in 1829 by a physician/plant hunter for the Dutch East India Company named Franz von Siebold -- the same Seibold who introduced Europe to hostas and hydrangeas. When the camellia arrived in Belgium, it was in such sorry state that it was rushed to the Leuven (Louvain) Botanical Garden. There it was tended to by the head gardener Andreas Donkelaar, a man known all over Europe for his way with plants. Donkelaar saved the shrub and went on to propagate and distribute it all over Europe. Sometime later the camellia was described in a magazine article and given the name 'Doncklaeri' in honor of the plant man who saved it. There's more to the story though. It turns out that the camellia named for Donkelaar already had a name – a Japanese name. It's original (and now preferred name) is 'Masayoshi' – the name of the family in Kurume who owned the land where these camellias had been blooming for hundreds of years. But apart from the interesting pedigree, 'Masayoshi' has some other things going for it. The shrubs are heavy with buds and blooms. The flowers are big. And, the petals are variegated, some even have red strikes atop a pink background shaped like frost flowers. Janet Trehane says that 'Masayoshi' remains popular today and continues to be used as parent stock for many newer varieties of camellias.



'Pink Perfection' is just that – classic in every way. The color is a uniform, pleasing shade of pink – not too faded and not too bubblegum pink. Row after row of petals look as though they've been set by hand to overlap just slightly. Even after blooming, the flower heads stay neatly in place turning a burnished brown. This isn't the first time I've seen 'Pink Perfection' in bloom. There is a small shrub of them in the camellia glasshouse in the botanical garden where I usually walk. However the camellia there is meant to be admired from a distance or to be seen though a big lens camera. It's nice to finally be able to get an up-close look.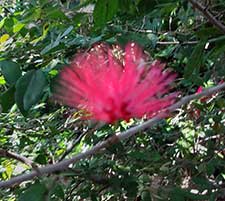 There's a powderpuff tree blooming now under glass in the temperate greenhouse where I usually walk. It's deep red and the blossoms are the size of tennis balls. Blooming here is a dwarf variety (Calliandra tergamina var. marginata). The blossoms are smaller – each about the size of a chocolate truffle – and its stamens are finer and shorter. The sign nearby says that the dwarf variety only grows to about four feet making it a great candidate for bonsai or a patio plant.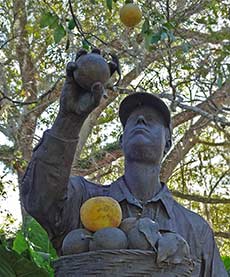 I stopped again to see the sculpture 'Citrus Workers' by William Ludwig. It's a realistic, powerful piece of men picking and packing the fruit. Right now it's made even more realistic because the nearby Marsh grapefruit tree is filled with fruit ready to be picked.




Nothing to be said.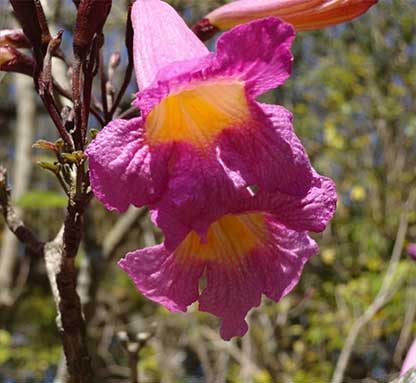 After we left Leu Gardens someone asked, "What was your favorite?" In our group of four, two said it was the Purple Trumpet tree (Handroanthus heptaphyllus). It's a very young tree – probably no taller than the average person. It has no leaves ans as yet few side branches. What it does have are flowers – clusters of tubular flowers the color of orchids made all the more spectacular because they don't have to complete with foliage for attention. The tree's ID says it's native to Brazil and that when it grows up, it will be 20 to 30 feet tall with a crown of from 10 -15 feet across. Here's a picture posted on Flicker of what this stick of tree might look like when it grows up. Unfortunately, the Trumpet Tree grows slowly – only a foot or two a year, so the real late winter spectacle is about a decade off. We'll be back.

cold steady rain and fog: light wind: 35ºF



If this isn't the most miserable day of the year for taking a walk in a botanical garden, it's among 'em. Why do it, then? Habit, for one. It's what we do every Saturday morning – get up early, buy a cup of coffee to go on the way, and then spend a couple of hours here walking and looking. Never in the 20+ years we've been doing this, have we ever failed to see something that we'd never seen before. As a reward for enduring the gray day, we'll stop in later to see the annual orchid show that opened this morning.




Flocks of robins have begun arriving from the South. Dozens of them have staked out the area near a grove of mature holly trees to eat what's left of the berries. Here's a couple resting while taking shelter under a park bench.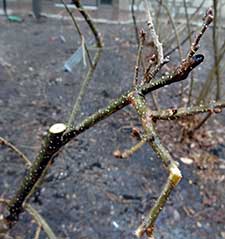 There's lots of evidence of fresh pruning and trimming. I've learned from experience that before I prune any flowering shrub, I need to find out whether it sets its flowers on last season's growth or the new wood that will develop this spring. A late winter trim of a shrub that set its flowers in 2013 will sacrifice a display in 2014. Lilacs bloom on last year's wood, so I was surprised to see that the oh-so-fragrant Manchurian lilac 'Miss Kim' that borders the Spink Pavilion had been newly pruned. I hope there's enough of last year's growth left for a sniff or two in April.




"Hey it's July and the winter sun is shining; And the Cootamundra wattle is my friend; For all at once my childhood never left me; 'Cause wattle blossoms bring it back again." That's the chorus from a ballad named 'Cootamundra Wattle' written and sung by Australia's best known country singer John Williamson. Inside the temperate Glasshouse in the middle of this hemisphere's winter, there's a Cootamundra wattle (Acacia baileyana) in full bloom. As I walk by the yellow wattle, it cheers the day, but little else for me. But there are other flowers that when I see them in bloom, I immediately jump back to an earlier time. It's the sight and the smell of a hyacinth that always brings me back. Hyacinths were my mom's must-have flower at Easter time. To her a hyacinth on the table was just as essential as the smoked kiebasa and ham. Even when I was far away from home, I had FTD send my mom a hyacinth and my love at Easter. Here's to you Cootamundra and to my hope that some plant or flower somewhere becomes a part of some child's kmemory.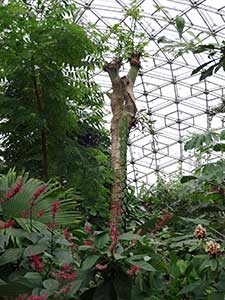 Image a tree. It's over 200 feet tall and is buttressed by wooden roots that look like rocket fins. High above, its canopy opens like giant umbrella. That's what a mature Kapok tree (Ceiba pentandra) would look like in a tropical rainforest. There's a Kapok tree growing inside the glass-covered Climatron, but it saddens me to look at it. With its top trimmed to fit the 70 foot-tall Climatron and its canopy trimmed to keep it from blocking the light to plants below, its majesty has been neutered. It's the old argument of whether it's better to have and preserve something in albeit diminished form or not have it at all. This Kapok truly is in a green zoo.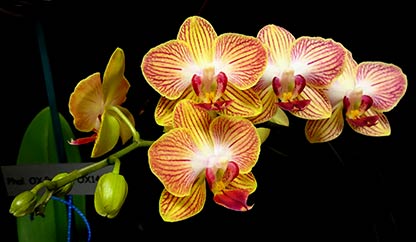 To end on a bit of color: This is from the orchid show. It's a Phalaenopsis orchid named 'Fuller's Gold Stripe.'




changeable: gusty: 37ºF



The only constant about the weather this morning is the wind – continual and cold. Other than that, during our morning walk we were drizzled upon, snowed upon, and pelted by pinhead cubes of ice. The sky was like a slideshow on a continuous loop shifting from overcast, to dark storm clouds, to clear blue. We likened the morning to a spastic kaleidoscope or to the moods of an early adolescent girl.



The last reminders of the holiday light show are coming down today. Each week bits and pieces were being removed. Last week the Climatron and the trees lost their lights. This week the plywood mountain is coming down and the electrical cords that snake around the daylily gardens are being picked up. Next weekend the focus abruptly shifts from outdoor lights and cold and smores to an indoor display of orchids. Hundreds of orchids from the Garden's collection will be on display in a setting inspired by the Brazilian artist and landscape architect Roberto Burle Marx. I know nothing about Burle Marx so I'm looking forward to the show.


Many of the citrus trees that were displayed during the holiday train show were crammed into the already overflowing space in the Linnean glasshouse. That's where I found this lemon tree. The fruit looks perfect, ready to pick, but it's being guarded by some formidable thorns. Anyone who picked a lemon or two from a tree like this would have no trouble dodging the thorns, but how about a grove of two? This website has a photo of a lemon picker's necessities: heavy leather gloves and a pair of clippers designed just for harvesting lemons.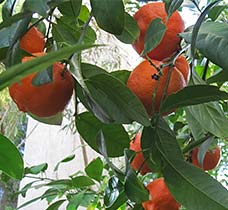 Here's another citrus growing indoors. This one is in the Temperate glasshouse. It's called an Otaheite orange. It's been loaded with seemingly very ripe oranges for a couple of months now. They just stay there. Not one has rotted nor dropped. Web sources call this dwarf tree a Tahitian Orange (Citrus x limonia 'Otaheite'). It's a cross between lime and orange. It's also called a Florist Orange because it will hold its fresh looking, deep orange fruits for months as though waiting and hoping for a customer to buy it.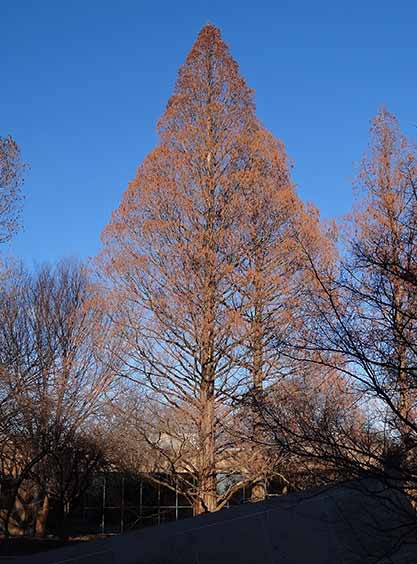 We stopped to gawk at this tree's perfect shape silhouetted against a brief interlude of blue skies. This is the newly named giant Dawn Redwood tree 'Raven.' It was named for the former president of this botanical garden Peter Raven.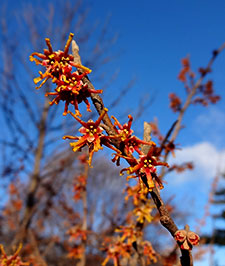 Ordinarily, January brings tidbits of spring. This January is stingy. Too many bitterly cold days and nights have made most growing things leery of revealing their hand. Still, vernal witch hazels can't be pent up. Give them a day above freezing and they can't help themselves. They bloom. Look for this one to be flowering wildly at the edge of the daylily garden.




Snowdrops usually like January too. Not this January though. In the Bird Garden, they've just come up and look ready to bloom, but they already have a weather-worn look about them. Their young stems and buds look yellowed and water-logged. I wish they had waited.