And so it ends . . .
November 15, 2014 / Saturday @ 8:30am / high thin clouds, light breeze, 28°

---
Nights in the 20s have ended the lives of the plants that were still managing to hang on. The leaves on the flowers and shrubs that were struck down during the week are still green and holding on.  Leaf drop and browning are just ahead though.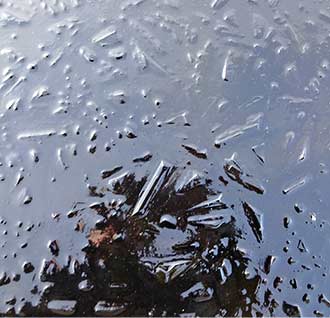 This morning there was ice on the reflecting ponds.  At this time of year, ice is a still a novelty, not a nuisance.  Dressed in my black quilted coat with my parka up, I leaned over the pond to get a closer look.  Here's my crystallized self-portrait.


This flower is remarkable simply because it's still alive.  It's a Red Hot Poker or Torch Lily called 'Rockette Yellow.'  It's blooming on an 18" stock and that's poking though foliage that looks like a thick clump of grass. It along with several other nearby clumps that didn't fare so well this morning have been blooming vigorously since September.  The Gardener's Encyclopedia Flora says that most of the Red Hot Pokers (Knipofia) are South African natives. There they flower from late autumn to spring.   In a zone or two south of here they do that too.  Here, Flora says "none will tolerate repeated heavy frosts."  So for this last 'Rockette Yellow,' the end is near – snow this afternoon and another night of subfreezing temperatures ahead.


The outdoor holiday light show opens this weekend.  Much is in place, but much needs to be readied. 


At 8:30 on a Saturday morning workers are here already putting up a display in was a tropical lily pond until a few months ago.  Brushed metal trees are up and glow globes are being eased into position and wired for lighting. 


Inside too the gift shop is preparing for the show too.  Gloves with LED lights sown into the fingertips are here. So too are pillars of wax Luminaria candles that have a battery-operated flame so akin to fire that I was fooled when I saw them for the first time.  Of more use that either glow gloves or faux candles are these pocket tissues.  They're destined to become best-sellers for visitors who come inside after a long walk on a cold night.


They look like 6-foor long necklaces – these bead-like clusters hanging from the end branches of some of the Dawn Redwood trees (Metasequoia glyptostroboides).  The clusters are easy to spot because they're hanging on the outer branches of the trees that get the most sunlight.  I learned that each of the beads is a developing male cone.  The cones began to form in early September and will release their pollen in February.  Nearby on the same tree, the waiting females are hanging by themselves elsewhere on the same tree.  I've haven't seen the developing female cones yet. They're harder to spot because they're green colored and they hang by themselves rather than in gangs like the males.  Finding them should be easier when all of the needles finally drop.
A Time of Reruns and Coming Attractions
November 8, 2014 / Saturday @ 8:00am / sun, then overcast, windy, 48°

---
The freezing temperatures of the last couple weeks have ended the lives of some, but not all the plants of summer. I looked at a patch of orange nasturtiums near the row of Bald Cypruses.  Some were in full bloom.  Nearby others were wilted and browning with leaves curled by frost.

With shorter days and colder nights, only the hardiest plants survive.  They're easy to spot now because so little of summer is left.  What the cold hasn't taken, the keepers of the garden have.  They've uprooted most of the summer plants and hauled them away to make way for spring bulbs and for the pansies that will add some winter color to the display beds.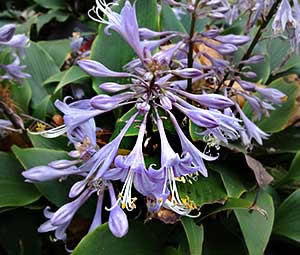 If you want to remember the better days it's better not to even look at most of the hostas.  There is one though that's at its peak – the Hosta 'Tardiflora.'   "Floriferous" is the right adjective for them.  Their purple scapes are brimming with trumpet-shaped lavender flowers and tight clusters of stamens jutting out from between their petals.  The keepers of the gardens have used the Tardifloras as a border plant so they're easy to spot from the main walkway.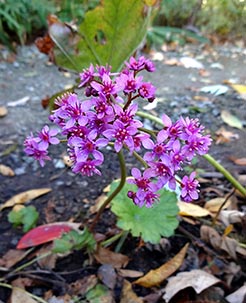 Every fall has its share of oddities – plants that bloom when they shouldn't.  This year the prize goes to the Umbrella Plant or Indian Rhubarb (Darmera peltata) that's in full flower along the walkway in English Woodland Garden.  It's supposed to bloom in the spring on a naked stock ahead of putting out any leaves.  I haven't been able to find anyone who's ever seen an umbrella plant that flowers in the fall, so get over the woodland garden and grab the bragging rights.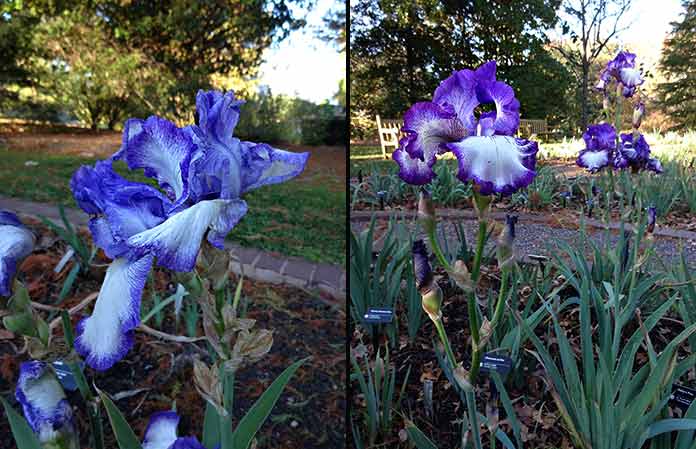 Reblooming irises – not unusual as much as startlingly out-of-sync – are still blooming and attracting a lot of attention.   In the fall it's not uncommon to see a few tentative flowers on spring bloomers like crabapples, azaleas, and quince. But there's nothing tentative about these reblooming irises.  Their stocks are sturdy and tall.  The number of buds rival the spring bloomers, and the flowers are full-sized.  Oddly enough, while every fall year there are always some irises that rebloom, I've never seen the same ones bloom every fall.  Here are two of this year's most spectacular late blooming tall bearded irises:  'Queen Dorothy' (left) and 'Double Shot' (right).  See them both before a hard freeze takes them out.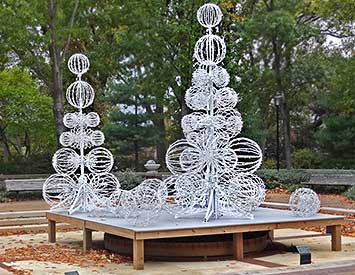 Preparations continue for the late November openings of the outdoor light display called Garden Glow and the indoor train/flower display called Gardenland Express.  Outdoors the advertising flyer promises "over 600,000 stunning lights" and "pathways transformed into sensory light tunnels providing an explosion of visual magic." Already a tall sweet gum has been strung with lights and the Plexiglas panels of Garden's geodesic dome tropical greenhouse have been outlined in green.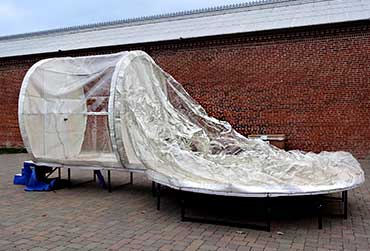 This week a couple of larger pieces of the display have been moved in. These snowball trees have been installed at the entrance to the show and this suggestive, but unknown object is waiting to be installed somewhere.

Outdoors we can watch as the show gets put into place.  But as for what's inside we usually have to wait until we walk into the display hall on opening night to see anything.  This morning though we got a sneak peak of the indoor holiday show by taking a behind the scenes tour.  The tour was led by the nursery supervisor who's responsible for ordering, scheduling, and growing the 5,000 plants that will be used in the show.  The tour started in the display hall.  Nine trains will be running, we were told.  All are remotely controlled and monitored by a station master who can view and fix most technical problems from home.  When a train falls off the tracks, though there's always a staffer on site to put it a right.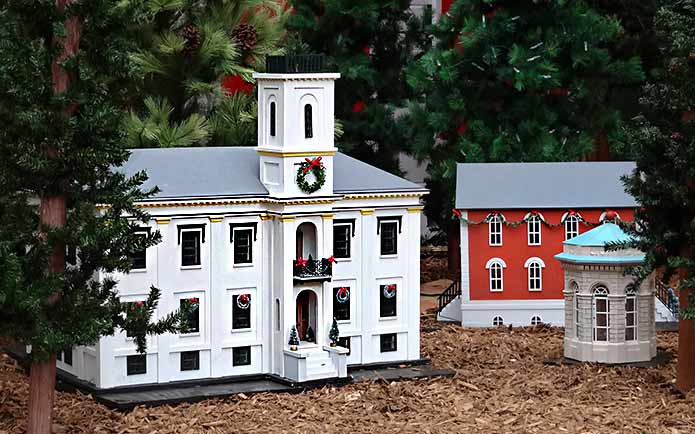 This year the theme of the show will be the Victorian times of Garden Founder Henry Shaw.  On display will be some Victorian furniture that Shaw could have used and some made-to-order small-scale replicas of the buildings Shaw had built. All of the replicas have been built by hand expressly for this show.  Shows are planned two years in advance to allow for such attention to detail.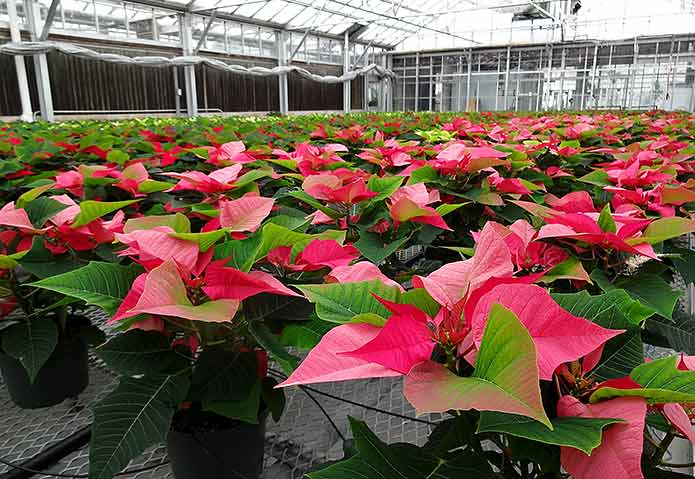 After seeing the display hall, we went into the greenhouses where the plants for the show are being grown. We saw long movable benches filled with begonia, chrysanthemums, cyclamen, kalanchoe, impatiens, ornamental peppers, hibiscus, coleus, and of course, poinsettias. One entire greenhouse is filled with them.  The show will rely primarily on red, white, pink, and maroon poinsettias developed by the Paul Ecke Ranch in California.   The varieties chosen all have dark green leaves set off by the large deeply colored bracts that spread out horizontally from the plants to give them a full, almost bouquet-like look.  In keeping with the Victorian theme of this year's show, no orange poinsettias will be used in the display.
Some bits and pieces I learned from the nursery supervisor who led the tour:
Controlling the number of hours of darkness is critical for getting poinsettias to color. In September, no lights were permitted anywhere near the greenhouse where the plants are growing.  Night workers anywhere in the greenhouse complex had to use flashlights to get around.


Tiny insect feeding wasps are used in the greenhouses to control pests.  The wasps eat 95% of the insects that could do the plants harm.  The wasps always leave 5% of the insects to breed so that they can feed on the next generation of bugs.  Just before the show, the remaining 5% are killed with a systemic insecticide so that the plants will be pest free when they are moved into the display hall.


If the growing tip of a poinsettia is not pinched, the plant will grow long and tall with a single stem – "a straight up."  Poinsettias are pinched to make them grow side branches and thye are sometimes doused with a growth regulator to stop them from getting too tall and gangly.


More plants are grown than are needed for the show to allow for damage.  Every year children and photographers accidently fall into plant displays while trying to get a better view or a more unusual angle.


The best way to kill a poinsettia is to let it stand in water.  If the plant is wrapped in foil when bought, poke holes in the bottom of the foil to let out the water.
I asked the poinsettia grower who cared for these plants since July whether he thought anything could go wrong at this point.  He said he wasn't worried.  Everything was right on schedule.  The plants will be in full color for the opening of the holiday show the week before Thanksgiving.