clear: windy now and then: 14ºF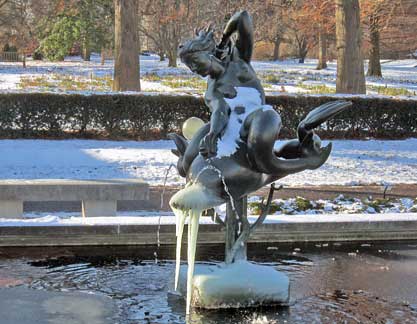 "The wonder of silk" a friend said to me this morning. Today for the first time this season I too was wearing silk under my jeans. My fleece stocking cap and quilted coat were equally wonderful as buffers between me and the cold.
Few people were walking in the botanical garden this morning. Many were inside though. Santa and his lap were here for the youngsters and for their arents who were taking pictures.
In the botanical garden I mark the start of winter by two things. First, it has be cold enough for frost feathers to form on the south windows of the Linnean greenhouse, the old brick glasshouse that houses the camellia collection and serves as an orangery for an assortment of citrus trees. Second, the Milles fountain sculpture of the sea nymph riding a dolphin into the North wind has to grow icicles that go from the dolphin's beak all the way down to the water. The feather tracings on the windows had formed, but were already melting in sun. The dolphin though had a fine pair of fangs coming from its beak. Winter is here.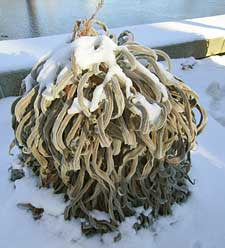 Dozens of Tower of Jewels plants (
Echium wildpretii
) line the edge of the large pond in the botanical garden's central axis. They didn't bloom this year. If they had flowered, they would have produced a stunning display. Each of the rosettes of scraggly leaves would have
produced a five-foot tall tapering column lined with hundreds of pink-purple flowers
. Not to be, I'm afraid for a couple of reasons. Tower of Jewels is a biennial and judging from their size and prominent placement, I think this was supposed to be their year to flower. Then there's the weather. They're native to the resort-like Canary Islands, so it will be interesting to see how they like spending the winter in the Midwest.
Despite the cold, a few camellias are still in bloom. This one, a Camellia japonica along the walkway near the English Garden is named 'Spring's Promise.' It still has a few vibrant blooms on its lower branches. Spring's Promise has been bred to withstand temperatures below zero so it should survive the cold nicely. These blooming flowers likely won't though. I'm hoping the buds do.

Certain shrubs are standouts on sunny mornings when the ground has a snow cover. This is a stand of Japanese barberry (Berberis thunbergii) named 'Golden Ring.' It's been planted near the wall in the Boxwood Garden and it hasn't yet lost its fall foliage of tiny orangey-red leaves.


We stopped at the Home Gardening building to look at the holiday tree. It's a not-to-be-missed because traditionally it's decorated with gourds grown at the botanical garden and then made into whimsical ornaments by volunteers. Here's an ornament I especially liked – a gourd lined with feathers made to look like an owl. In its beak is a small gourd painted to look like a field mouse.

Find scented geraniums in two places: During the growing season there's a nice collection of them in the herb garden. In the winter, go to the temperate glass house. I've read that scented geraniums are natives of South Africa and were brought to Europe and American three or four hundred years ago. They reached their heyday in the mid-1800's before the days of chemical air fresheners and were used to add fragrance to Victorian home. Back then the leaves of scented geraniums were also floated in table-side finger bowls so that hands would always smell pleasant at meal times In cooking they were used to flavor jams, jellies, cakes, and sugars.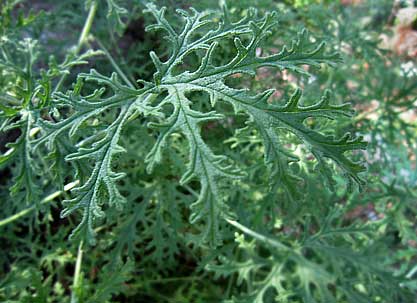 There are hundreds of varieties that have scents that noses detect as citrus, nutty, fruity, spicy, or pungent. While most of the varieties I've sniffed have a strong aroma, I'm always hard-pressed to put name to the scent until I've read the label. Then I take another whiff and think, "Yep, it smells just like xxx." (whatever the label says). In the Temperate House there's this skeleton-leafed variety named 'Dr. Livingston.' (Pelargonium radens). A pure lemon scent I'd say. Internet sources agree, but add that it has hints of rose too. Now that you mention it, I think I did detect a bit of rose.




clear sharp light: calm: 36ºF


How many times have I passed by this thing? It's mounted on a slab along the walkway through the hosta gardens. When it arrived at the botanical garden several years ago it was a just a rectangular basin. The gabled roof cap was added later. There is no sign identifying the piece but it is clearly dated 1668 and is embellished with crests that look British to me and the initials "SCI".

Turns out that a very similar item was offered at an auction by Christie's in 2004. Christie's called the item "An English Lead Rectangular Cistern." They sold the two-foot high piece for about $2000. The piece in the botanical garden is in much better shape and it's at least twice as tall without the cap, but who's to say whether it's an original or a reproduction.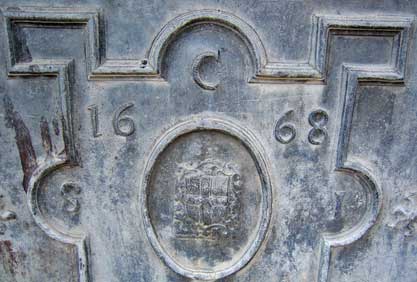 English cisterns like these are now prized as garden ornaments, but in the 17th Century they had other more practical uses. I found an interesting history of lead cisterns on the Bulbeck Foundry's website. Bulbeck makes authentic reproductions of cisterns at their foundry just outside of Cambridge. They say that lead cisterns were used extensively in the 17th and 18th century to collect water from the roofs of big houses. The rainwater would saved to be used for cooking, bathing, or watering plants. The cisterns were commonly dated and embellished with crests, arms, or initials. Lead was used for cisterns because it was plentiful in Britain, easy to extract, and malleable to work.



There are a dozen or so varieties of crinum lilies that have been left to overwinter in the bulb display gardens. Many more have been lifted and are spending the winter in the hallways of the botanical garden's working greenhouses. Which stay and which go? Only the Garden's bulb experts. Flora: A Gardener's Encyclopedia says there are about 130 species of Crinum lilies and that they're native to wet lands in South Africa. The bulbs are tender perennials belonging to the amaryllis family.

After looking around the beds I noticed that this botanical garden uses many varieties of the hybrid Crinum x powelli. Crinum growers say that Crinum x powellii are "durable and hardy, reportedly surviving into zone 6." Then as if adding a warning label to the bulbs, the growers add, "Some C. x powellii have lasted as pass-along plants for many years not because they are especially beautiful but because they are so durable."



The clear blue sky is a perfect contrast for branches filled with native persimmons (Diospyros virginiana) and bright red possomhaw berries (Ilex decidua). Both trees are growing at the top of the rise in the native shade garden.




cloudy: north wind: 22ºF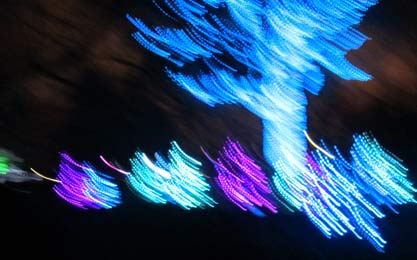 The botanical garden turned on the lights last night. The holiday show called "Garden Glow" drew some 3500 Garden members to see just what the garden had cooked up for its first ever outdoor display of lights.



The lighted attractions are scattered along a mile-long, one-way walkway. At the center of it all is the Climatron, the botanical garden's 70 foot-tall domed tropical greenhouse. LED lights trace the whole dome with green lights on the inner pipes and cool white ones on outer ones. The effect was like a green moon rising. As the packed line of visitors got closer to the dome, the line slowed noticeably as people fished out their cell phone cameras and took aim.

All of the displays in the light show are powered either by solar power or LED lights. The show guide says that LED lights are being used because they are in keeping with the botanical garden's mission of using and promoting energy-efficient practices. Ticket buying visitors may not care about energy savings or mission statements. Dazzle is what most of people want as they walk a mile on a cold night. LED lights deliver the dazzle. They're brighter and have lenses that throw off light in all directions. Still better, they glow in colors that are still rare and unusual to see in holiday displays. Pastels and shades in the cooler part of the color spectrum are the norm here. As yet some of the colors don't even have names so who can be tired of seeing them? LED technology can produce 256 million colors and a single bulb can even scroll through the whole spectrum. Lots of amazement is in store for holiday light shows of the future as the cost of LED technology comes down and we tire of seeing pastels.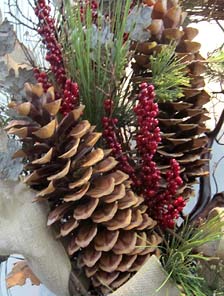 Holiday wreaths decorate the walls in the atrium leading to the Garden. Each year a dozen or so designers from local floral shops and garden centers make these huge wreaths that would need a whole wall in a great room to hang tastefully. Each of the designers has a different take on what a wreath needs to look festive. After seeing all the wreaths and picking my favorites, I then go back to look more closely at the details.

In a wreath called 'Home for the Holidays' the designer uses a lot of these pine cones. They're so long and broad that I thought they might be cleverly made imitations. They're real though. The sign says the cones come from Sugar Pine trees (Pinus lambertiana). Everything about the Sugar Pine is big. It grows taller than the scaffolding on most roller coasters and its trunk can be 7 feet around. The cones are usually 12 to 18 inches long, but can grow to a couple of feet. There's an active market on the internet for sugar pine cones with the longest ones selling for about $2.80 a piece wholesale.



We've had some nighttime lows in the teens already, but a few camellias continue to bloom. This pink one, a Camellia sasanqua labeled 'Jessica's Ruffles,' is in the English Woodland Garden. It's supposed to be hardy to zero, but I think a few more cold nights will be enough to turn the pink blossoms to brown.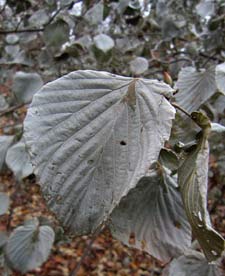 I saw a large Winter Hazel (Corylopsis sinensus) shrub tucked away off the pathway in the English Woodland Garden. It was thick with these silver-colored leaves. I only noticed the shrub because of the leaves. Silver isn't a typical fall color for winter hazels. "Leaves turn variable but usually unexceptional shades of yellow in fall," according to the botanical garden's website. Why does this one have leaves that aged to a silvery gray? Even a search of the internet came up dry.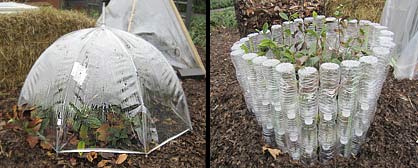 The gardenia experiment continues. About a dozen gardenia shrubs have been planted in the Home Garden to test their hardiness. It's sure death to zone 8 gardenia varieties left outside in our Zone 6b winter. But what would happen if these Zone 8 gardenias got a little help? In these trials one gardenia is being left completely unprotected. Each of the others has been given a different kind of protection. One is surrounded by bales of straw stuffed with dry leaves. Another has chicken wire all around it to hold in a blanket of dry leaves. Here's one that uses a transparent plastic umbrella to protect the shrub. On this one, tiers of water bottles circle the shrub. I bet the garden keepers have a pool going on wagering on which ones are most likely to get though the winter.




high clouds: north wind: 46ºF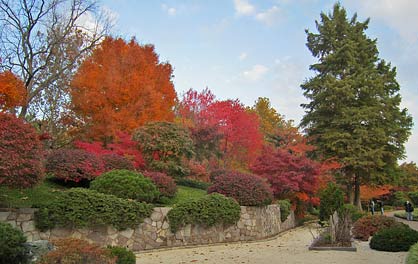 This was the last morning before the clocks return to normal. If I were ever to see the botanical garden at sunrise, today would have to be that day. So I arrived early; as did dozens of others. After three days of rain, we all wanted to see the leaves that had suddenly changed their outfits.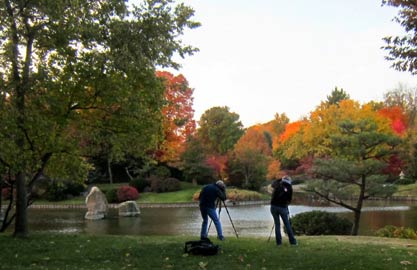 The trees and shrubs in the Japanese Garden are brilliant. Photographers, as numerous as fishermen on opening day of trout season, are catching views from every angle before they disappear.

After the color fades, the botanical garden plans to close the Japanese Garden until cherry blossom time in the spring. Work will be done on the lake itself, on the plumbing that keeps the water falling over the two waterfalls, and on the decking and supports of the bridges. Works has already begun on the zig-zag bridge and drum bridge. This is the drum bridge that connects the garden with the sacred tea island. The railings and walkway are gone. Only the curved supports remain.


Trees and shrubs that I've never noticed before I see today. Color does that. Just off the walkway I saw this Three-Flower Maple (Acer triflorum). The foliage was so brilliant and intense that I detoured to see the tree up close. Intriguing leaf: three separate spreading leaflets that join at the stem.

Every week more preparations are being made for the botanical garden's big winter event: Garden Glow. Hundreds of thousands of LED lights will be strung on trees and buildings. Some will be programmed to produce some crowd-pleasing pastel hues that have never been seen at local outdoor light displays. Added to the lights, there will be music, dancers, a candlelight village, and some decorate it yourself life-sized snowmen and women. Of course, there will be food and drink stations throughout the garden and a few fire pits for roasting the marshmallows needed to make s'mores.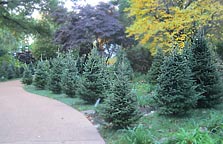 To get ready for Garden Glow, the walkway through the daylily garden has been "planted" with douglas firs. Dozens of them, all beautifully shaped, and scattered so artfully that I felt as though I was walking though a tree farm. Some of the trees are strung with lights, but there's still much to be done.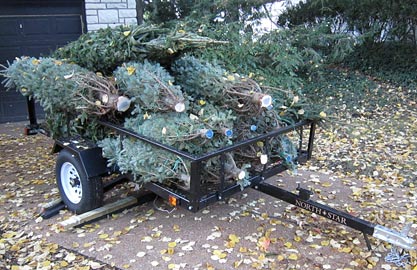 I thought the trees were alive until I saw this hitch hidden behind some shrubbery.


Just as sassafras can't make up its mind about which leaf shape it prefers, neither can it decide what color its three different leaf shapes ought to turn in the fall.



The water in circular fountain was dyed bright red to encourage the St. Louis redbirds to win the World Series. It didn't work. Now to add salt to our wounded hopes, the fountain is sending up a spray of washed-out red.